Day .11…Hadees No 10 👇🏃‍♂️
🌷Aslam-O-Alaikum Dear members.🌷
Our today's Hadith is Down 👇
The Topic of the Hadith of the Day is—Beauty
For English members.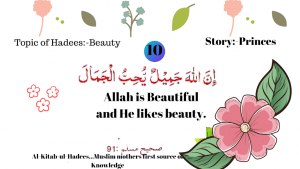 This is a very beautiful hadith of the beautiful name of Allah. This hadith is also important to teach kids to live clean and neat. And also care about the keep clean the things around them. Tell them wearing neat clothes and combing hairs are not matters to show others. But If we would do it as-Sunnah and for the sake of Allah we will get a reward from Allah of it.
Want to read the story of this hadith? Click here
video of the story in English.
For Urdu Members:-

یہ حدیث اللہ کی صفت سکھانے کے ساتھ ساتھ بچوں کو صاف ستھرا رہنا سیکھاتی -اس کے ساتھ ساتھ بچوں کو ماحول کو صاف رکھنا اور خوبصورتی کا احساس رکھنا پیدا کرے گی -آج لوگ کپڑے بدلنا ور بل بنانا تک دنیاوی کام سمجھتے ہیں.جب کہ اگر اگر ہم سنت کی نیت سے اور الله کو خوش کرنے کی نیت سے سب کچھ کریں گے تو اس پر اجر بھی ملی گا. لہذا آج کی حدیث اور کہانی بچوں کے لیے بہت اہم ہے
حدیث
اس کا ترجمہ ،تفسیر اورسیرت /اخلاقی کہانی اس ویڈیو میں جمع کر دی گئی ہے
براہ مہربانی بچوں کو ویڈیو لگاکر دکھاتے ہوۓ ساتھ بیٹھیں اور ان کی توجہ اہم نقاط پر ڈالیں.اس کے بعد حدیث لکھنے میں بچوں کی مدد کریں ور حدیث یاد کروائیں اس کا ساتھ ساتھ پچھلی احادیث بھی دوہرائیں
بچوں کی حدیث کی تصویر گروپ میں نام کے ساتھ پوسٹ کریں. تا کہ اس سیشن کے آخر میں وہ سرٹیفکیٹ حاصل کر سکیں .اگر بچوں کی
احادیث
سناتے ہوۓ ویڈیو بجھنا چاہیں تو وہ بھی بیجھ سکتے ہیں
شکریہ
Video of the Story
Want to Read this Story In English Click here.
Want to Get 30 Hadiths pdf? Comment below with the language.
Want to enrol your child for this Hadith course? Comment below or Email me.
Students activities
Follow me
(Visited 866 times, 1 visits today)