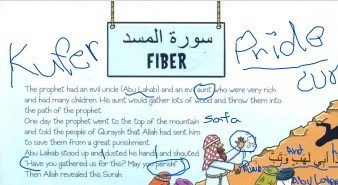 Surah-tu-Masad or Surahtu-Lahab is abou uncle of Prophet Muhammad SAW, Abu lahab and his wife. They are cursed in this Surah-tu-Lahab by name But Why? He was happy when his nephew was born. He loved the son of his dead brother. He knew his nephew very closely. But his love turned to hate.
Method of Teaching
Surah-tu-Lahab Our method of teaching. This is how we taught and learned this surah in Many steps.
Step 1 : Introduction of of Surah-tu-Lahab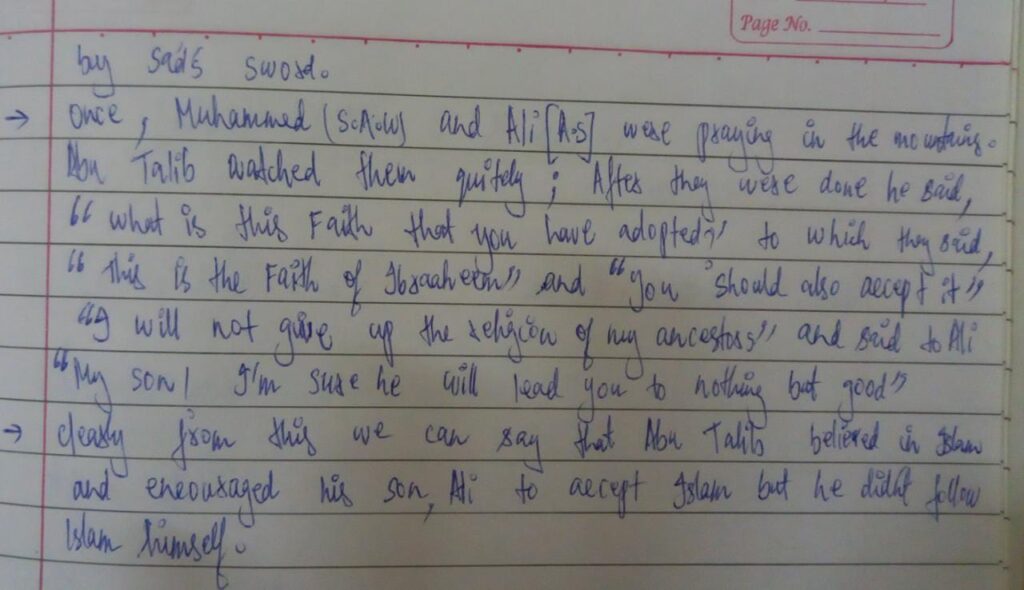 Abu Lahab showed enmity with Holy prophet SAW Just because the teachings were against His fake gods. He was Rich. He had many children .He was proud was proud. So in his pride he misbehaved. He dusted his hands to look down him. He is the only person in Quran who is cursed with his name in this way. And his wife as well because His wife was partner of his mission.
So Allah promised that both will be punished.1. His hands would be ruined.2. He and his wife would be ruined.3. They would be blazing fire.4. Fibber rope would be in their neck. And his pride, his wealth and sons will not help him……. it is the saddest moment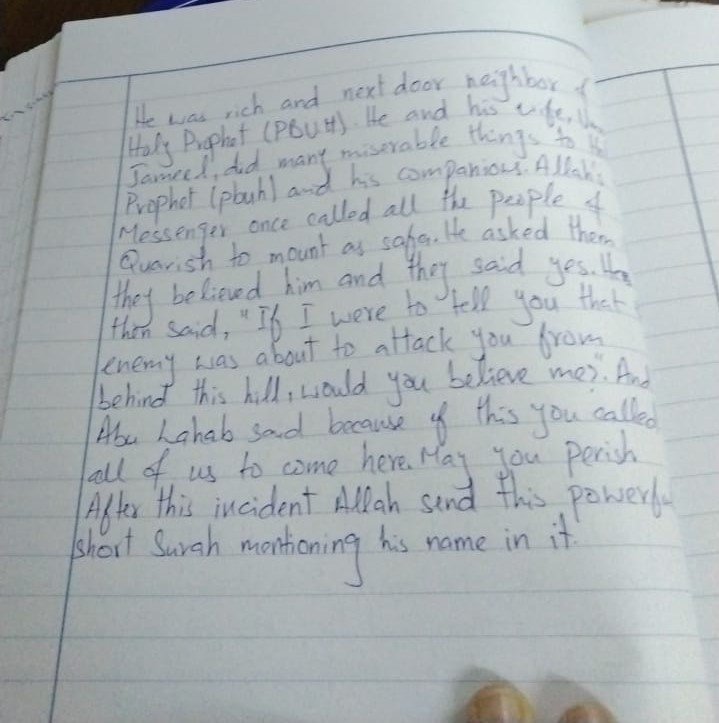 From Book ;My first Quran picture book; we do word to word Translation. For word to word translation we also use ms word. So that children can note and memorize meanings of every word. In the pictures below you can see the class work done by students as well.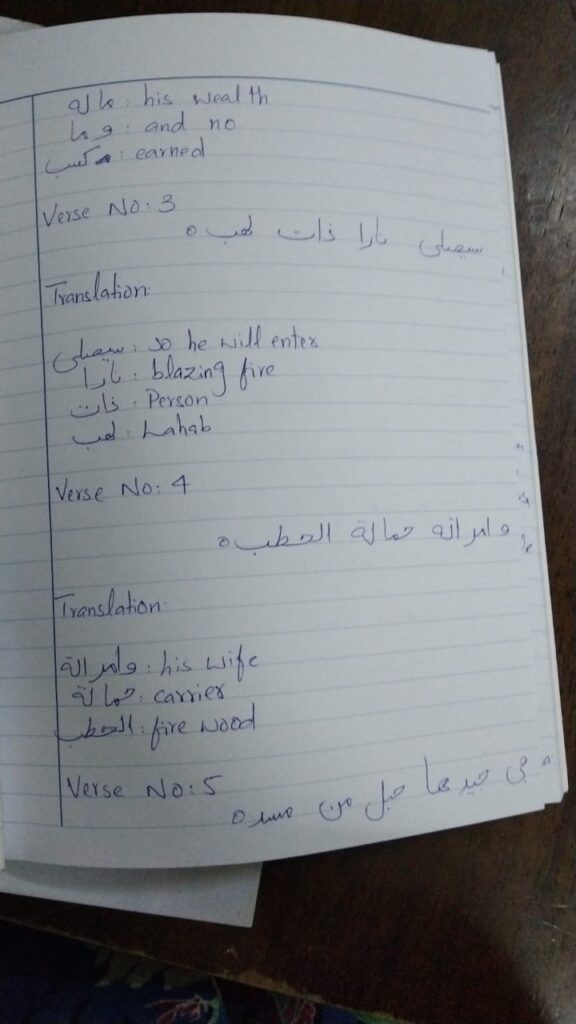 Step3 : Translation and discussion of Surah-tu-Lahab
In this step we do full translation of every verse with the help of the pictures in the book. Its very easy for students to understand the verses with the help of pictures. I really admire the author of this book. When we do discussion on every verse we discuses some incidents from our life.
We also discuses the do's and don't according to the them and lessons we draw from the verses. For example Abu Lahab dusted his hand in pride. He had many children and was very rich. So for students it was time to ponder on the value powers. He had men power and wealth power. But nothing helped him. So Allah SWT says, what ever a man earns could not help him.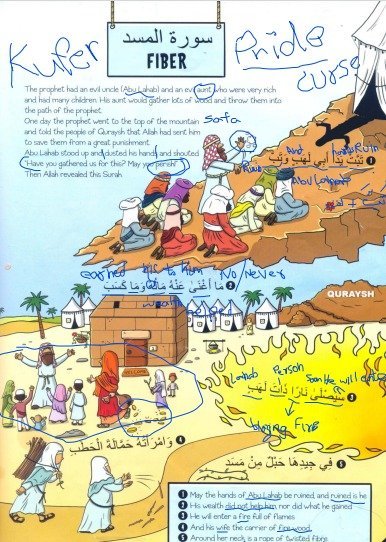 Step4 : Tafseer of Surah-tu-Lahab
We had a deep study on the story and surah from Islamic studies book chapter 30.. Here are some key points noted from the book. Surah-tu-Lahab is a Makki Surah. It has 5 verses. It was revealed after misbehaved of Abu Lahab on mount AS-Safa. When Allah SWT order his Prophet SAW to call his family/Tribe member toward Islam. Abue Lahab and his wife left no stone to make the life of Prophet miserable. Hence he ordered his two sons to divorce their wives the daughters of Prophet Muhammad SAW.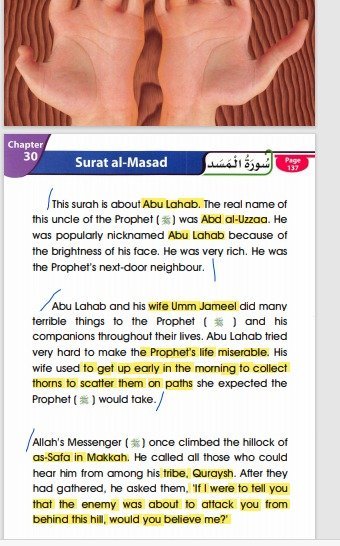 Step 5 Storytelling
Surah-tu-Lahab is a story of pride of Abue Lhaba. A story of two brothers (Habil and Qabil) from 'My first Quran story book' was told about pride/jealousy and hate. This story is about the sons of Adam AS, Habeel and Qabeel. So the result was same. Sever punishment was for Qabeel who was the son of a prophet as well as for the Abue Lhab who was the uncle of Holy Prophet. No one can escape from punishment of doing wrong. The examples of the Sons of Noah AS and Loot As and Father of Ibraheem is also narrated in Quran. My students learnt big lessons from the stories.
Abu lhab was a symbol of pride. He was proud to be wealthy and he had many sons , so he was also having pride on his men power. As well as his status was also reason of his pride. So here is a story, which is also according to our topic.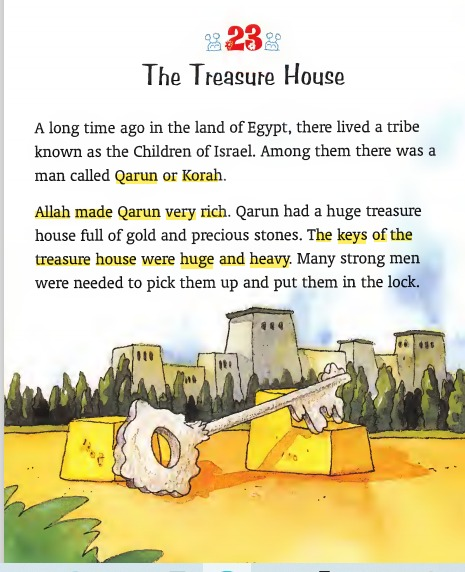 Step 5 Infographic of Surah-tu-Lahab
Infographic helps in memorizing translation and its also good for long term memory. With the help of drawings, children draw images of the Qur'an in their hands but hearts and minds. Which is the favourite activity of the children.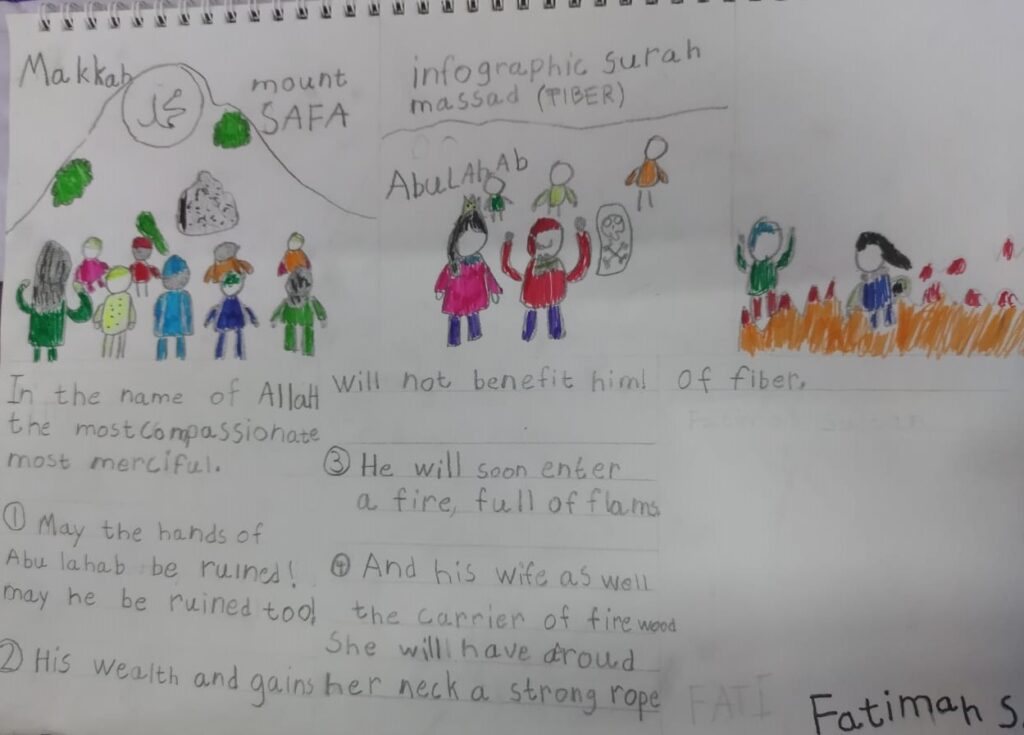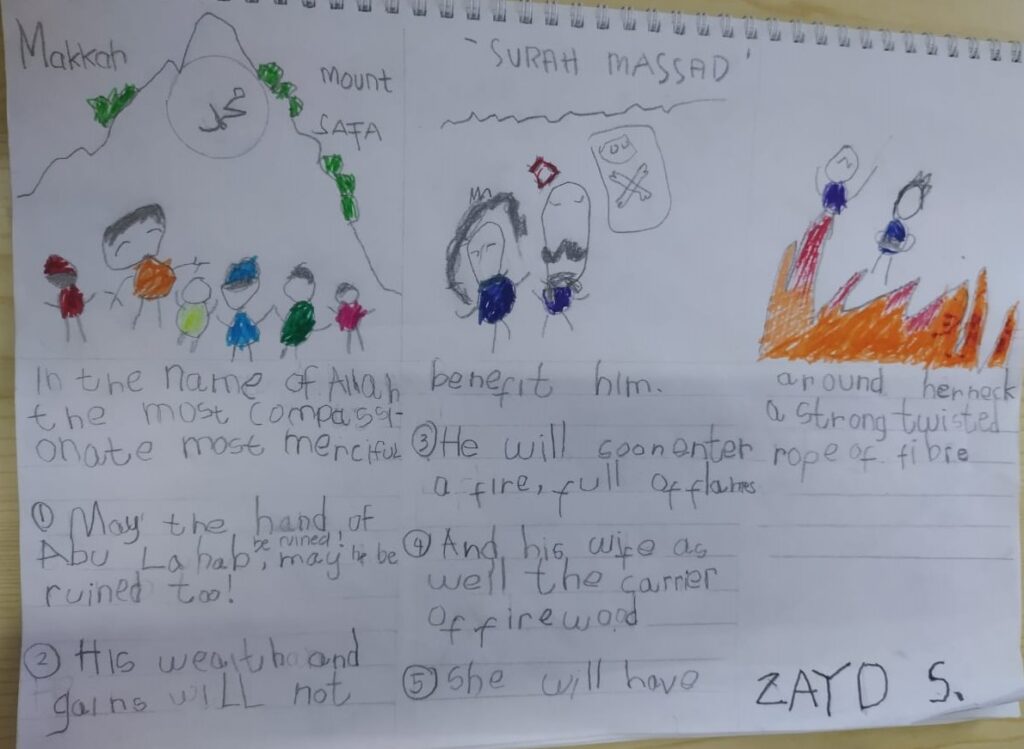 Step 6 Mind map of Surah-tu-Lahab
So we do mind map after completing the Surah. We collect our information and points from the Surah to make mind map. We also do use mind maps from LiveIslam.org here are some points from the mind map.
Surah-tu-Lahab is makki surah. It has 5 verses. Its theme is pride, jealousy and sever punishment for wrong doors. So cursed people are also mentioned in the Quran.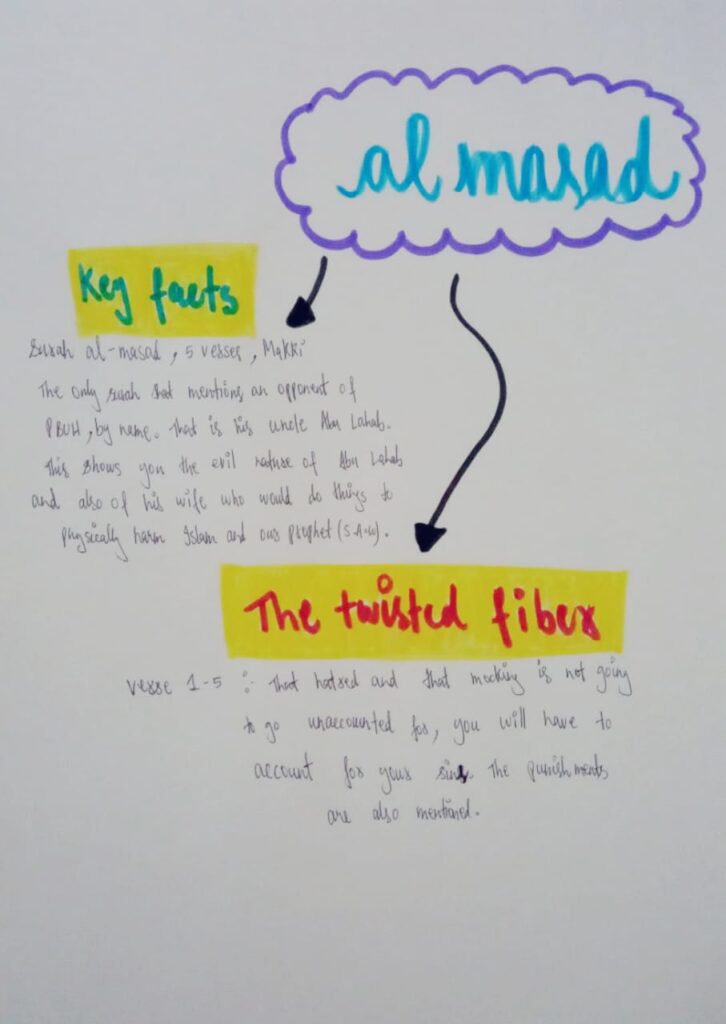 Step 7 Exercise/revision of Surah-tu-Laha
Exercise from the Islamic studies book was done . Final worksheet like a lap book was also done. Translation was revised and listened by students. Memorisation Task of this surah was also completed During these classes. done.
Alhamdolilah.children learned new Arabic words, Learned lesson from the life of Habeel and Qabeel and from the Seerah stories abut Abu lehab and About our Prophets teaching style when He SAW called his peoples from Al-Sufa Mountain.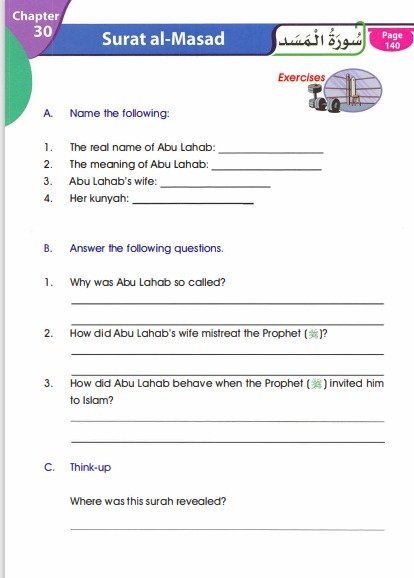 Other courses we have
Hadith with stories course consists of 30 short hadith for children with interesting stories you can see that course in my hadith course tab.
Prayer for kids course a short course to teach about taharat, Gusal, wudu, times of prayers, number and names of prayers, pillers and conditions of prayer and method of prayer. Search as Prayer for kids course on search bar.
Kindness to Parents
Ramzan Boost course
Faith boost course in December to say NO MARYY CRISTMAS
Enrolments Available
Tafseer for kids group class are available online for all time zones. Recommended age for the class tafseer for kids is 9+. These classes are available in English and Urdu. If you want to enrol your child in our classes contact us via.
email: bhallitaha@gmail.com
or leave a comment.
Follow me
(Visited 194 times, 1 visits today)