Islamic Relief USA (IRUSA) is a humanitarian organization that is part of the Islamic Relief Worldwide (IRW) network. It is one of the largest Muslim charitable organizations in the United States, dedicated to providing assistance and support to those in need, regardless of their race, religion, or nationality.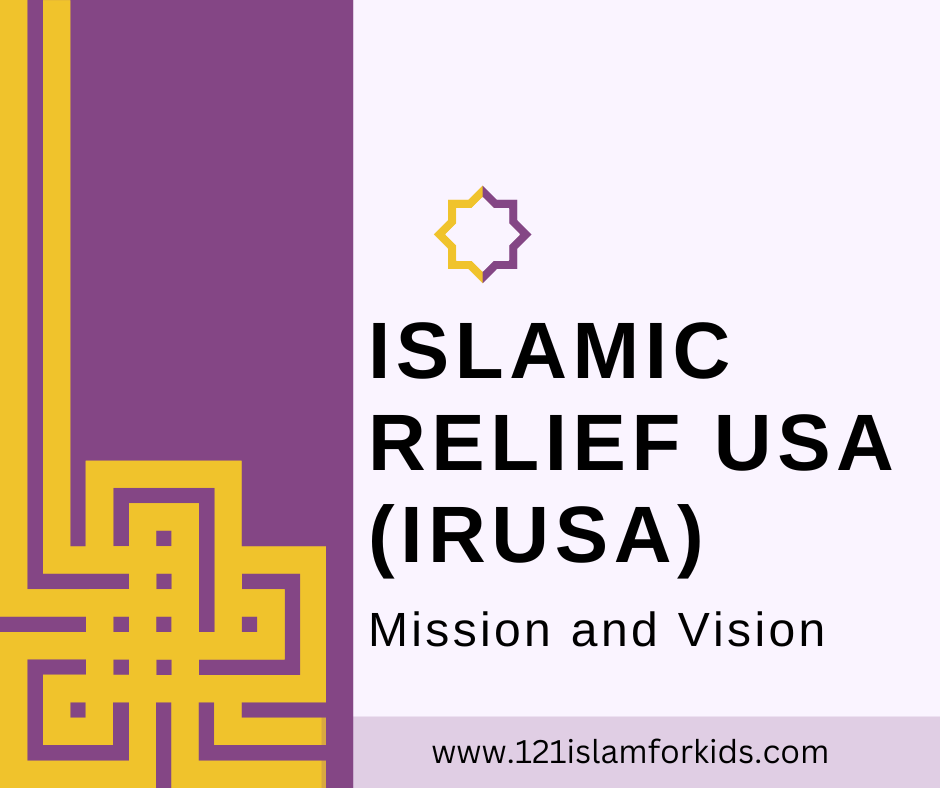 Here is some detailed information about Islamic Relief USA:
Mission and Vision:

Islamic Relief USA's mission is to alleviate suffering, hunger, illiteracy, and diseases worldwide.
Their vision is a world where people are empowered to overcome poverty and live with dignity and security.

Background:

Islamic Relief USA was established in 1993 and is headquartered in Alexandria, Virginia.
It operates under the umbrella of Islamic Relief Worldwide, a global humanitarian and development organization with a presence in over 40 countries.

Humanitarian and Development Programs:

Emergency Response: IRUSA responds to natural disasters, conflicts, and other emergencies worldwide, providing immediate relief and support to affected communities.
Food Security: IRUSA works to combat hunger by providing food assistance, establishing sustainable agriculture projects, and promoting nutrition education.
Health and Nutrition: They support healthcare initiatives, medical clinics, and vaccination campaigns, particularly in underserved areas.
Education and Orphan Support: IRUSA focuses on improving access to quality education, supporting schools, providing scholarships, and offering assistance to orphans and vulnerable children.
Water and Sanitation: They undertake projects to provide clean water, build wells, and improve sanitation facilities, thereby reducing waterborne diseases.
Sustainable Livelihoods: IRUSA aims to empower communities by providing vocational training, small business support, and microfinance opportunities.
Orphan Sponsorship: Through their "One-to-One Orphan Sponsorship" program, IRUSA connects sponsors with orphans to provide them with education, healthcare, and basic needs.

Domestic Programs:

In addition to its global efforts, Islamic Relief USA also operates programs within the United States to address poverty, hunger, and disaster response.
These programs include food pantries, refugee resettlement support, homelessness prevention, and community development initiatives.

Transparency and Accountability:

IRUSA is committed to transparency and accountability in its operations. It undergoes independent audits and provides financial reports to ensure donor funds are utilized effectively and efficiently.
The organization is also guided by Islamic principles of charity (Zakat), ensuring that funds are distributed to those in need in a responsible and ethical manner.

Partnerships and Collaborations:

IRUSA collaborates with various international and domestic organizations, governments, and institutions to maximize the impact of its humanitarian efforts.
They work closely with local communities, religious leaders, and partner organizations to ensure sustainable development and community ownership of projects.

Fundraising and Support:

Islamic Relief USA raises funds through individual and corporate donations, fundraising campaigns, grants, and partnerships.
They actively engage with donors and supporters through events, campaigns, and volunteer opportunities.
It's important to note that the information provided is based on the knowledge available up until September 2021. For the most up-to-date and accurate information on Islamic Relief USA, I recommend visiting their official website at www.irusa.org.
Here is a list of Islamic relief organizations in the United States:
Muslim Hands USA
United Muslim Relief (UMR)
Pure Hands
Islamic Circle of North America (ICNA) Relief
Penny Appeal USA
Life for Relief and Development
Rahma Worldwide
Al-Mustafa Welfare Trust USA
Islamic Society of North America (ISNA) Development Foundation
Please note that this is not an exhaustive list, and there may be other local and regional Islamic relief organizations in the United States. It's always advisable to research and verify the credibility and activities of any organization before making donations or getting involved.
People Also read this
What are the 4 obligatory acts of Wudu? How to perform Wudu?
Story 25 Eng| Taqwa is the Fear of Allah: Umer R.A and the Widow woman 
Online skilled, Muslim teacher for children and beginners

How to Teach Five Prayers in a day?Childrenprayer

How to teach 30 short Hadiths? Interesting stories with worksheets

Hadith no 2 | Topic of the Hadith-Supplication(Prayer) |Story of three men in the Cave | 30 short hadith for children.

9 Best apps for kids For home-schooling/ pre-schoolers that could change your thought about using devices.

The Cave, Summer Craft to keep children busy.

Summer crafts Idea's for children, home-schooling … How to make a bunch of grapes with beans and cotton
Follow me
(Visited 68 times, 1 visits today)