Welcome to our Online Urdu Classes, Learn Urdu with an Urdu tutor
Urdu haroof e tahaji free worksheets and story series NO1
الف خالی کی کہانی
مریم شہزاد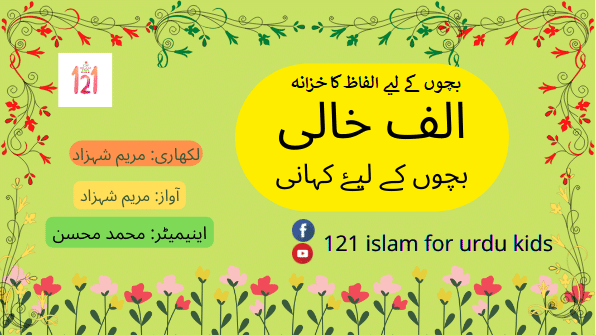 آج الف بہت اداس تھا کسی کے ساتھ بھی نہیں کھیل رہا تھا سب اس کو بلاتے مگر وہ سوتا بن جاتا۔ اس کے نہ ہونے سے سب حروف بہت پریشان تھے ۔کیونکہ اس کے بغیر کتنے ہی کام رک گئے تھے ۔
بانو الف کے بغیر اپنا نام لکھتی تو بنو ہوجاتا ۔احمد اپنا نام لکھنا چاہتا تو حمد بن جاتا۔
کوئی پانی مانگتا تو اس کے منہ سے پنی نکلتا ۔امی آٹا منگوانا چاہتی تھی مگر الف کے چھپنے کی وجہ سے آ بھی غائب تھا ۔
صبح سے رات ہوگئی مگر الف کی اداسی دور نہ ہوئی ۔
دوسرے دن صبح سب حروف مل کر الف کے پاس گئے اور اداسی کی وجہ پوچھی ۔ پہلے تو الف کچھ نہ بولا مگر جب سب نے اصرار کیا تو بولا
"آج صبح مدرسے میں قاری صاحب پڑھا رہے تھے کہ الف خالی ، ب کے نیچے ایک نقطہ ، ت کے اوپر دو نقطے ، ث کے اوپر تین ۔۔۔۔۔اور میں خالی۔۔۔۔ " یہ کہہ کر وہ پھوٹ پھوٹ کر رونے لگا۔ اس کو روتا دیکھ کر سب حروف پریشان ہو گئے آخر وہ سب سے بڑا تھا اور بڑا بھائی پریشان ہو تو سب ہی پریشان ہوجاتے ہیں۔
سب الف کے پاس سے ہٹ گئے اور مل کر کچھ سوچنے لگے اچانک ح بولا
" ارے یہ تو ہم نے سوچا ہی نہیں۔۔"
"کیااااا؟؟"سب نے یک زبان ہو کر پوچھا
" سب میرے ساتھ الف بھیا کے پاس چلو ، ابھی سمجھاتا ہوں ."
سارے حروف حیران پریشان ح کے پیچھے چل پڑے ۔
ح نے الف کو مخاطب کیا۔
"الف بھیا !!! آپ تو سب سے بڑے ہیں اور سب سے سمجھدار بھی لیکن آج آپ کو کیا ہوا۔۔ ۔"
الف نے گھبرا کر ح کو دیکھا کہ وہ کیا کہنا چاہ رہا ہے
"۔ یہ دیکھیں میں بھی تو خالی ہوں ، یہ ط ، ص ، س ، ع، ل ، ک ر، د ہم سب بھی بغیر نقطوں کے ہیں ، پھر آپ خالی ہونے سے کیوں گھبرا گئے۔"
"اور کیا الف بھیا میں تو کتنی چھوٹی ہوں مگر میں بھی تو اکیلی ہوں" گول ہ بولی
"اور الف بھیا ! آپ سے تو کتنے سارے لفظ اور نام شروع ہوتے ہیں اور کتنے سارے حروف تو آپ کے بغیر کچھ کر ہی نہیں سکتے ۔" ف نے دلاسا دیا ۔
"غ نے کچھ غصہ دکھا کر کہا کہ آپ نے دوسری کلاس میں یہ نہیں سنا کہ استاد ہر حرف کے ساتھ آپ کو ملا رہے تھے ، جیسے ج+ا =جا۔
ب+ا=با۔ٹ+ا=ٹا ۔ بچے کیسے مزے سے ٹاٹا کرتے ہیں یہ نہیں سوچا آپ نے ، بس روٹھ کر بیٹھ گئے۔
"اور اللّہ پاک کا نام آپ سے شروع ہوتا ہے یہ بھی آپ بھول گئے".ج نے ناراضگی سے کہا
اب تو الف بھیا بہت شرمندہ ہوئے اور ان کو سب حروف پر پیار بھی بہت آیا کہ سب نے مل کر ان کو کتنے اچھے سے سمجھایا، انہوں نے سب حروف سے معافی مانگی اور سب کو پیار کیا کہ ان سب نے الف کو درست راستہ دکھایا ورنہ تو وہ خواہ مخواہ ہی پریشان ہو گئے تھے۔
Video of this Story
Urdu heroof e tahaji Alif ki free worksheets
Worksheet story. (Buy This worksheet book) email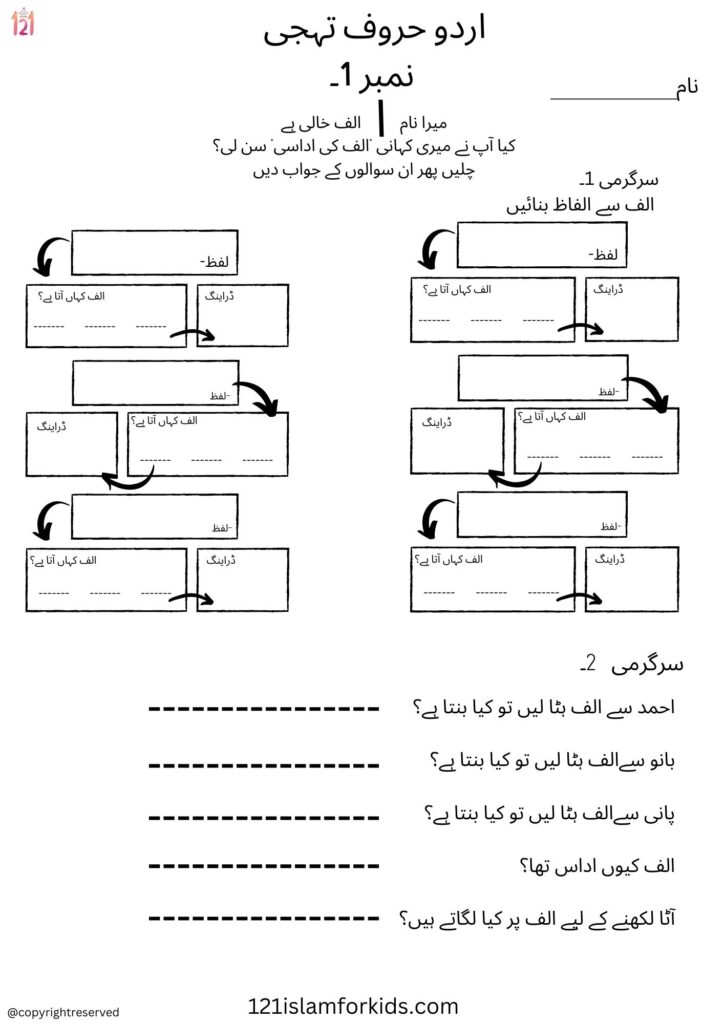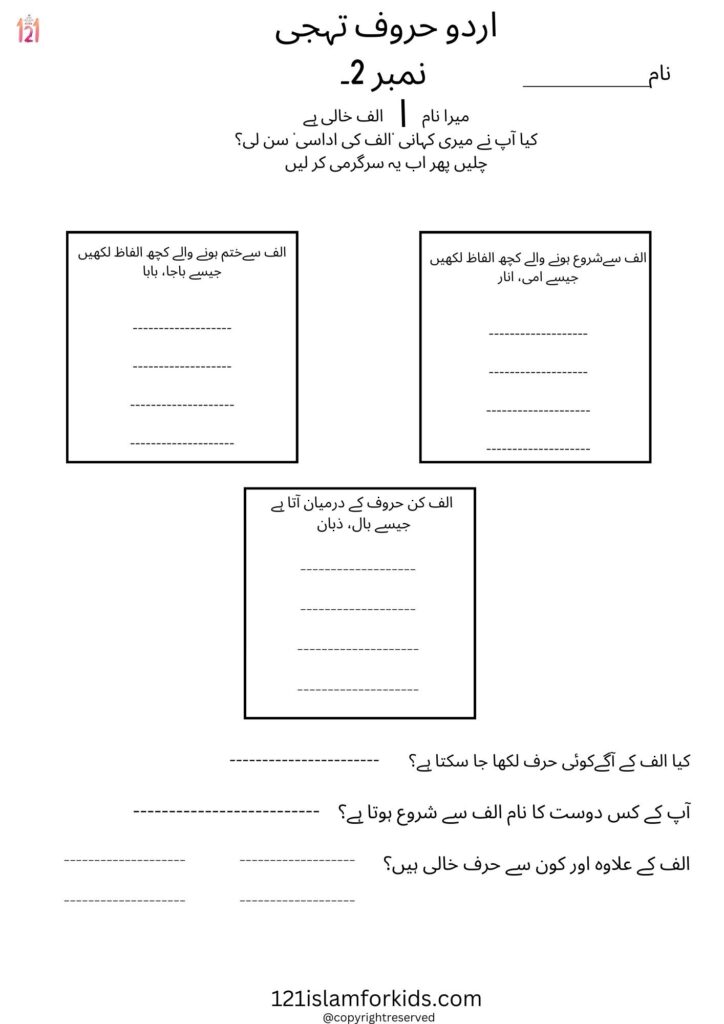 Enrolments Available
Online Urdu Classes are Available for all ages. comment below or Email
We are offering Online Urdu learning classes to students from All time zones. Urdu for beginners, Urdu from Grades 1 to 10, And o Level/A level/GSCE online tuition are available.
This is a short course of hadith and stories from My 30 short hadith with stories course. Online group classes are available online for all time zones. Recommended age for the class Hadith for kids is 7+. These classes are available in English and Urdu. If you want to enroll your child in our courses contact us via.
Other courses we have
Urdu classes for kids and beginners
Urdu Tutions for Matric and 0 levels/A level
Seerah course for age 9+ in the Month of Rabilawal started
Easy Tafseer for kids with exciting stories you can see that course in my hadith course tab.
Prayer for kids course is a short course to teach about taharat, Gusal, wudu, times of prayers, number and names of prayers, pillars and conditions, and prayer methods. Search as Prayer for kids course on the search bar.
Ramzan boost course we do start 2 weeks before Ramzan.
Faith boos course 1st week of December to say No To Marry Christmas.
Kindness to Parents
If you want to start this course with me then leave a comment, Email me or enroll your child here.
Download your free copy of 30 short Hadith book pdf in Urdu/Eng from the Posts tab.
Watch more videos
Follow me
(Visited 996 times, 2 visits today)