Welcome to our Hadees with stories short course for kids and adults. This course has been designed for personality development.
We have 30 short hadiths with the best stories to understand the meaning of the hadiths and to learn how we can apply the sunnah of Prophet Muhammad S.AW in our daily life.
All hadiths and stories in English and Urdu are available on our site. You can visit the menu to search for stories with series.
Lets start learning Today's Hadees and Story in Urdu
Hadees no 15
Lesson no 16
Topic of the Hadees Importance of Sunnah
Story- The Qibla was changed
ہمارےپیارے نبی کریم صل اللہ علیہ و آلہ و سلم کی نماز–Hadees
یہ حدیث نماز اور آپ صل اللہ علیہ و آلہ و سلم کی سنت پر عمل کرنے کے بارے میں ہے. جیسا کہ ہم سب جانتے ہیں، جب ہم نماز ادا کرتے ہیں تو ہمیں آپ صل اللہ علیہ و آلہ و سلم کی سنت پر، انہی کے طریقے پر عمل کرنا ہوتا ہے.ہم آپ کے بتائے ہوئے مخصوص طریقے میں نہ کچھ اضافہ کر سکتے ہیں اور نہ اس میں کوئی کمی کرنا ممکن ہے.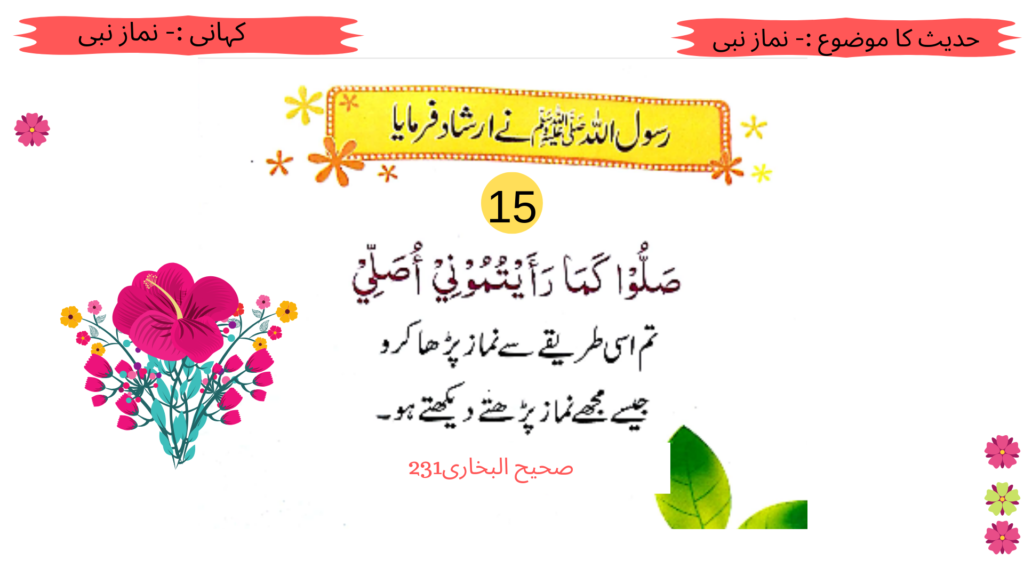 قبلہ کی تبدیلی کی کہانی —Hadees story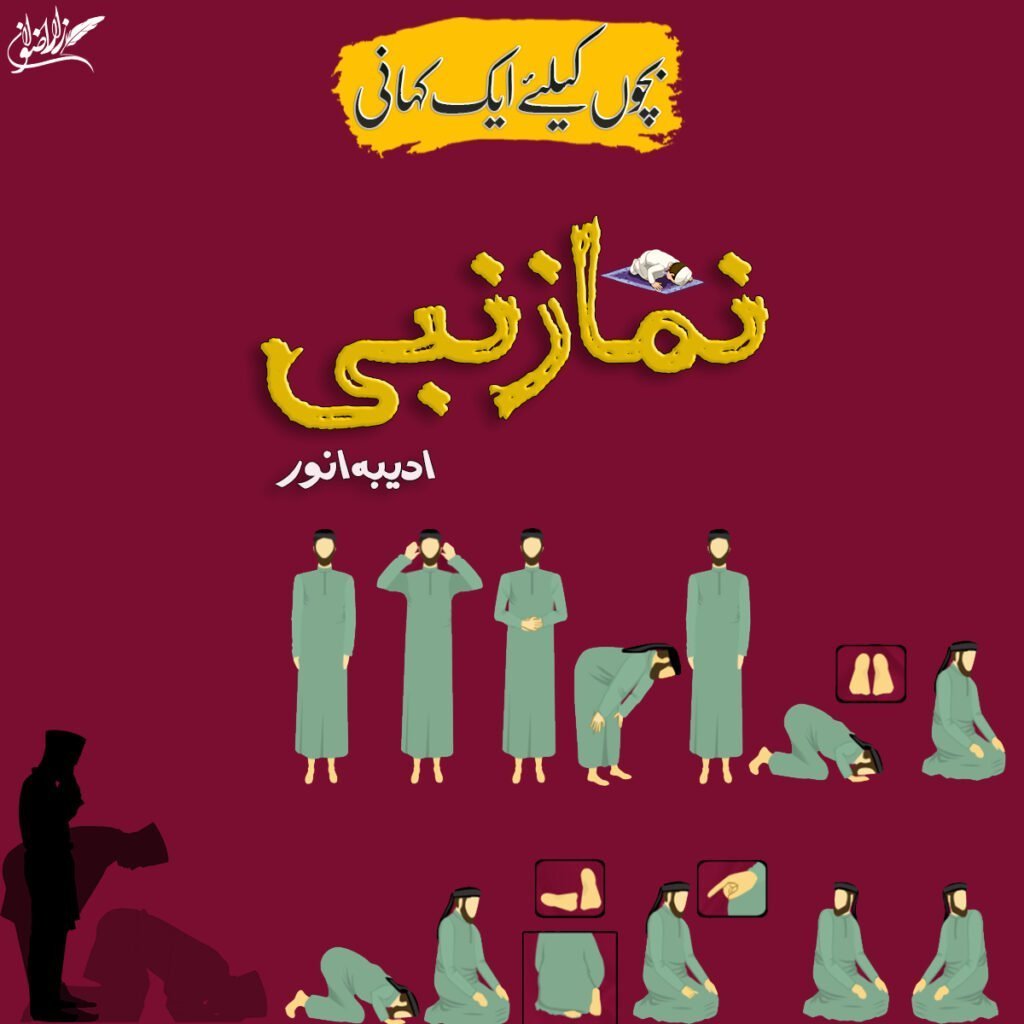 اس حدیث کی کہانی اس دور کی ہے جب قبلہ اول کی تبدیلی ہوئی، جب مکہ سے مدینہ کی جانب ہجرت ہوئی تو مسلمانوں کا قبلہ تبدیل کر دیا گیا.یہ آپ صل اللہ علیہ و آلہ و سلم اور ان کے ساتھیوں کے لیے ایک بڑی آزمائش تھی. لیکن سچے ایمان والوں نے آپ کی پیروی کی اور اس معاملے میں کبھی کوئی بحث مباحثہ نہیں کیا. جب مکہ میں اسلام کا ظہور ہوا ,تو کعبہ ہی مسلمانوں کا قبلہ تھا جس کی جانب منہ کر کے وہ نماز ادا کرتے.کعبہ کو حضرت ابراہیم علیہ السلام اور ان کے بیٹے نے تعمیر کیا اور یہ اللہ پاک کا پہلا اور سب سے پرانا گھر ہے.
ایک مرتبہ آپ صل اللہ علیہ و آلہ کو اللہ کی طرف سے حکم ہوا کہ نماز کے لیے اپنا رخ بیت المقدس کی جانب پھیر دیا جائے، مسلمانوں نے اس حکم کی پیروی کی، اور آپ کے ساتھیوں نے کبھی اس پر اعتراض نہ کیا. مدینہ میں یہودیوں کی ایک کثیر تعداد آباد تھی. یہودی اپنے مذہبی فرائض بیت المقدس کی جانب منہ کر کے ادا کرتے تھے، بیت المقدس بھی اللہ کا گھر ہے جسے حضرت سلیمان علیہ السلام نے تعمیر کروایا تھا.
میرے عزیز طالب علموں !!! ایسا اس لیے تھا تاکہ یہودی یہ بات سمجھ جائیں کہ اسلام کوئی نیا اور انوکھا دین نہیں ہے، بلکہ یہ وہی دین ہے جو موسٰی علیہ السلام اور باقی انبیاء کرام علیہم السلام کا تھا. اور مسلمان تمام انبیاء اور مقدس کتابوں پہ پختہ یقین رکھتے ہیں. آپ صل اللہ علیہ و آلہ و سلم نے ہر طرح سے یہودیوں کی راہنمائی کی تاکہ وہ اسلام کو سمجھ کر اسے قبول کر لیں، لیکن وہ نہ مانے. صرف چند یہودیوں نے اسلام قبول کیا،
بلکہ اللہ کے نبی اور اسلام کے دشمن بن گئے. انہوں نے مسلمانوں کے لیے مشکلات پیدا کیں اور خفیہ سازشیں کرنے لگے.سترہ ماہ بعد، اللہ پاک نے مسلمانوں کو سمت کی تبدیلی کا حکم دیا اور اپنا رخ کعبہ کی جانب موڑنے کا کہا
پیارے بچو!!! یہ عصر کی نماز کا وقت تھا، سب مسلمان آپ صلی اللہ علیہ و آلہ و سلم کی پیروی کرتے ہوئے نماز ادا کر رہے تھے، اسی دوران آپ صلی اللہ علیہ و آلہ و سلم کو اللہ تعالیٰ کی جانب سے وحی کے ذریعے حکم دیا گیا کہ اپنا رخ کعبہ کی جانب موڑ لیں آپ نے فوراً اپنی پشت پھیری اور رخ تبدیل کر لیا. فوراً ہی آپ کے تمام ساتھیوں نے بھی آپ کی پیروی کرتے ہوئے اپنا رخ تبدیل کر لیا.
آپ صلی اللہ علیہ و آلہ و سلم سےکوئی سوال نہ کیا گیا، صحابہ آپ سے نہ تو بحث کیا کرتے تھے اور نہ آپ کی حکم عدولی کرتے تھے. ہمارے لیے بھی اسلام کی یہی تعلیم ہے کہ ہمیں اللہ اور اس کے رسول کے تمام احکامات پر بغیر کسی بحث اور دلیل کے عمل کرنا چاہیے. نہ کوئی شکوہ نہ شکایت، محض قرآن اور سنت کے احکامات پر عمل اور ان کی پیروی کریں.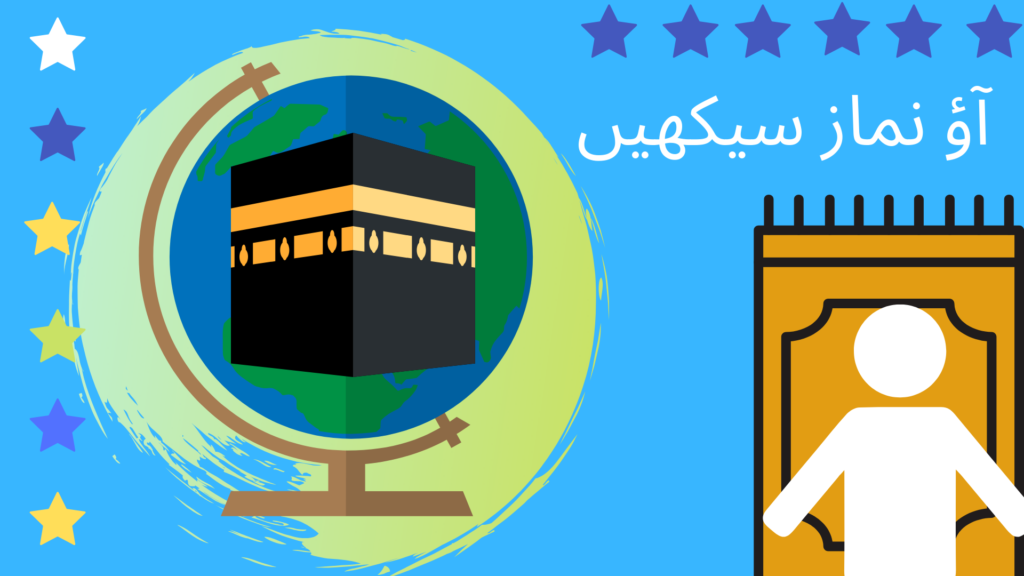 اس حدیث کو اپنی نوٹ بک میں لکھنا نہ بھولیے گا، دوسری احادیث کے ساتھ ساتھ اس کی بھی تصویر شئیر کریں تاکہ آپ کے بچوں کے احادیث کی تکمیل کی سند دی جا سکے.اللہ پاک سے دعا ہے کہ وہ اس کام کو آپ کے لیے آسان بنا دے
نوٹ:اس حدیث کو اپنے دوستوں اور گھر والوں کے ساتھ شئیر کریں، تاکہ زیادہ لوگ اس سے فائدہ اٹھا سکیں
This Hadees and story in Video
Worksheet for this Hadees and story…… You can buy this Book of 35 colouring pages. Comment to get a copy.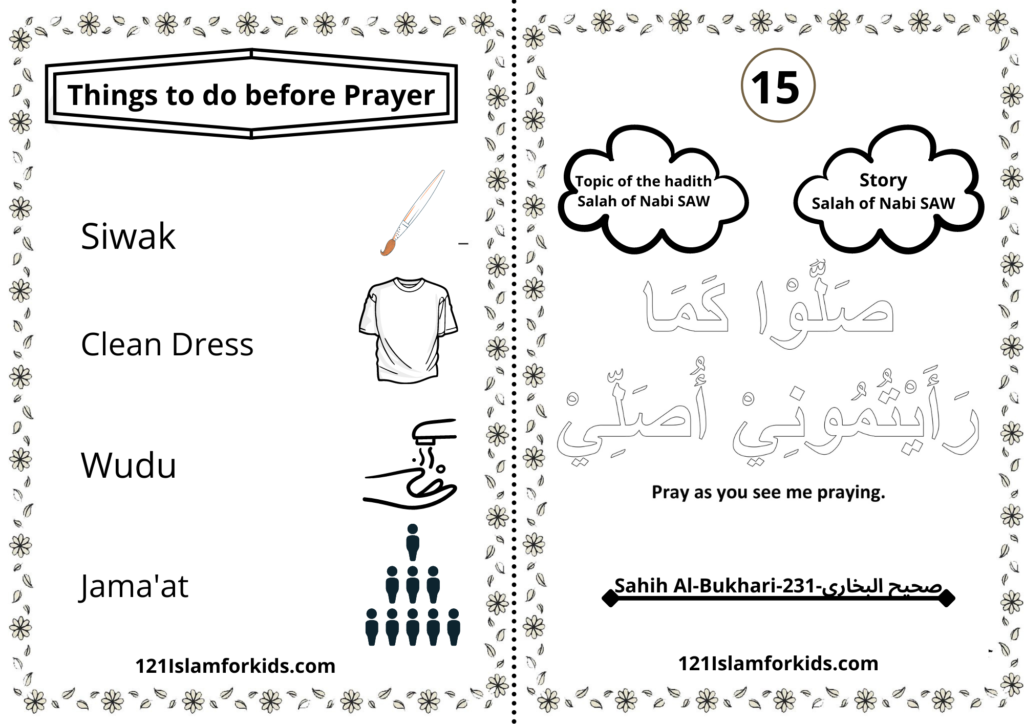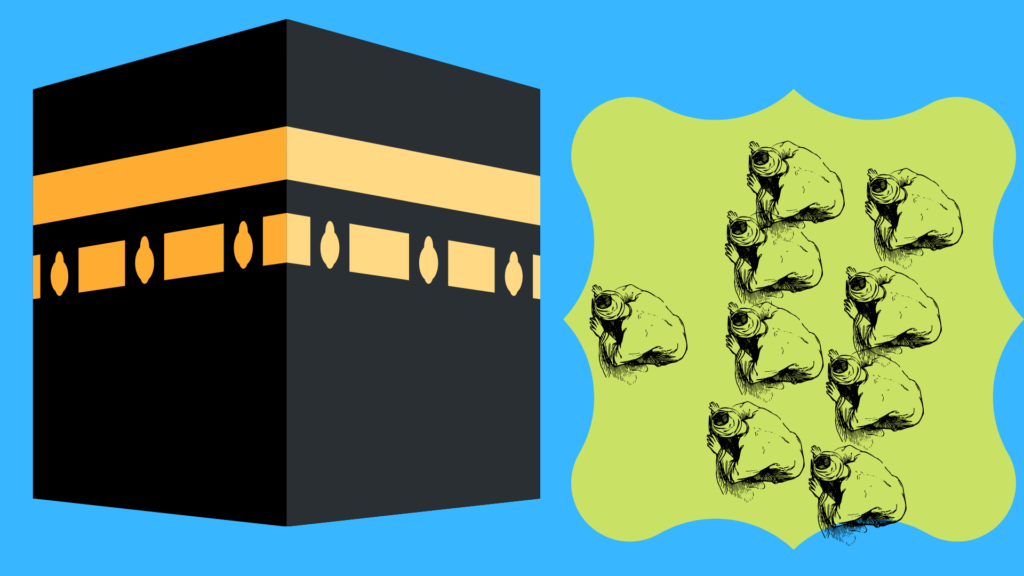 This course could be done online for free with the help of our free hadees and stories. You can read English stories here and
. Free hadees book in pdf is available on our homepage and the workbook is available to buy at our courses sign-up page.
Or you can join our online classes to learn about Islam. List of courses/ Classes we have
Online Quran classes for beginners
Online Quran recitation and Memorisation classes
Islamic education for children
Seerah course
Ramzan boost course
Faith boost course
Rights of parents course
Prayer for kids course
How was your experience visiting our site? If this course helped you? Please leave your thoughts. If you have any questions, you can ask them in the Question tab. If you want to connect with us via Email, then email here
Follow me
(Visited 270 times, 1 visits today)