100 Urdu stories for reading series.
Insects are vanishing from the earth. We can teach children to love them and save them.
     میری پیاری لال بیگ
   بچوں کے لئےایک پیاری سی کہانی -urdu stories for reading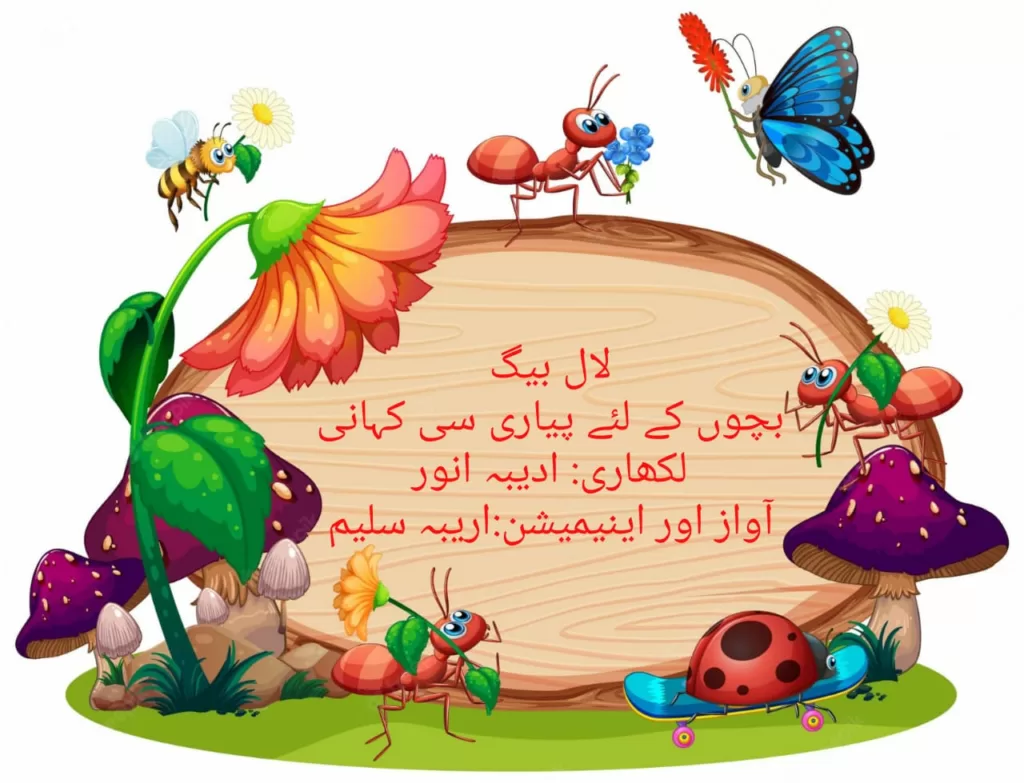 بہارکا موسم ہے- ہر طرف  خوب صورت رنگوں اور پیاری پیاری خوشبو والے پھول کھلے ہیں
اور رنگ برنگی تتلیاں ، لال بیگ، مدومکھیاں،اڑ رہی ہیں
میں کهیلنے کے لیے باہر نکلا
اوہ ! یہ لال بیگ کتنی خوبصورت ہے
میں نے اپنے بھائی سے کہا 
میں اسے ہمشہ کے لیے اپنے ساتھ رکھنا چاہتا ہوں
میں نے اپنے بھا ئی کے ساتھ مل کر اسے پکڑ لیا
ہم نے اسے کمرے میں لا کر ایک بوتل میں بند کر دیا
اور وہ بوتل ایک میز پر رکھ دی
اور اس بوتل میں تھوڑی سی گھاس 
اور پھول بھی رکھ دیے
دوپہر تک وہ لال بیگ بوتل کے
 اندر چھلانگیں مارتی رہی
وہ باربار اوپر چڑھتی  اور پھر نیچے گر جا تی
ہم اسے دیکھ کربہت خوش تھے
مگر شام کو وہ لال بیگ آرام سے بیٹھ گئی
 اب وہ  بار بار اوپر بھی نہیں چڑھ رہی تھی
وہ تھوڑی اداس اور تھکی ہوئی لگ رہی تھی
وہ اب ھمارے ساتھ خوش نہی ہے
اور پھر ہم نے غورکیا اس نے صبح سے
ہم اپنی امی جی سے اس کےلیےکھا نا لینےگیا 
تب ہماری امی نے بتایا
دیکھو بیٹا 
ہیں وہ سب اس کو یاد آ رہے ہوں گے
جس طرح آپ کو کوئی پکڑکر کہیں بند کر دے
 تو آپ کو اچھا نہیں لگے گااسی طرح
وہ بھی بوتل میں بند ہو کے
 اچھا محسوس نہیں کر رہی ہو گی
آپ اس کو خوش دکھنا چاھتے ہیں 
تو اسکو واپس با غ میں چھوڑ آئیں
 اوراسکوپودوں کے پاس جا کر چھوڑ دیا
 وہ اڑتی ہوئی پودوں میں کہیں گم ہو گئی
کہ میں اور میرا بھائی ایک خوبصورت باغ میں اڑ
اور وہاں ہماری پیاری لال بیگ بھی ہمارے ساتھ اڑ 
رہی ہے 
 اور بہت خوبصورت نغمےگا رہی ہیں
وہ اب سچ میں 
ھمارے ساتھ بہت خوش ہے.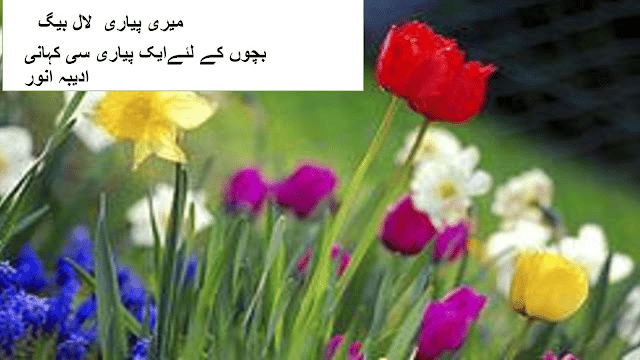 Enrolments Available
This is a short course of hadith and stories from My 30 short hadith with stories course. Online group classes are available online for all time zones. Recommended age for the class Hadith for kids is 7+. These classes are available in English and Urdu. If you want to enroll your child in our classes contact us via.
Other courses we have
Easy Tafseer for kids with interesting stories you can see that course in my hadith course tab.
Prayer for kids course is a short course to teach about taharat, Gusal, wudu, times of prayers, number and names of prayers, pillars and conditions of prayer, and method of prayer. Search as Prayer for kids course on the search bar.
Ramzan boost course we do start 2 weeks before Ramzan.
Faith boos course In December to say No To Marry Christmas.
Kindness to Parents
If you want to start this course with me then leave a comment, Email me or enroll your child here.
Download your free copy of 30 short Hadith book pdfs in Urdu/Eng from the Posts tab.
Follow me
(Visited 114 times, 1 visits today)